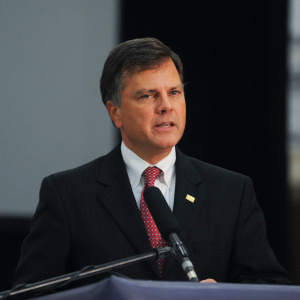 "I'm proud to be from Alabama," says Arthur Orr, a sixth generation Alabamian who grew up next to the Alabama Sheriff's Boys Ranch in Danville.  "One thing I learned growing up was the value of hard work… though I may not have appreciated it much at the time, I certainly do now." Whether working on the Boys Ranch, hauling 55-gallon barrels for his family's business or loading sand at the Norfolk-Southern Railroad yard in the early morning before high school, hard work was an important part of his early years.
"I've always been a 'doer'… even early in life." While attending college at Wake Forest University, Arthur served as chairman of the Honor Council, received several academic honors and held numerous leadership posts.  He attended law school at the University of Alabama in Tuscaloosa. While also earning leadership and academic honors in law school, Arthur taught freshman English to undergraduates and regularly volunteered with Big Brothers/Big Sisters and the Community Soup Bowl.
"The plight of those in need has always concerned me. My faith mandates action to address the needs of others." While his classmates pursued legal careers after graduation, Arthur joined the Peace Corps. He was assigned to a remote Himalayan village in Nepal; several days walk from the nearest road. He lived primitively with no indoor plumbing and dirt floors. During his term of service, he conducted teacher trainings throughout the region. "I soon noticed the plight of young village girls who were married off at early ages and unable to continue to their educations. They would be relegated to a lifetime of despair with little hope for a better existence." With the financial help of friends and family in the U.S., Arthur used his legal and language training to establish a college scholarship program to benefit female village students. To date, over 80 village students have benefited by attending college and seeking the opportunities an education provides.
After completing his Peace Corps commitment, he returned to Decatur, Alabama where he joined the law firm of Harris, Caddell and Shanks, P.C. and served as president of several non-profit organizations.  Arthur was selected as the Citizen of the Year by the Decatur Rotary Club and received other leadership awards from various organizations, including carrying the 1996 Olympic Torch.
"Though I became a partner in a respected law firm and was active in the community, I felt led to return overseas to do what I could to help the poor in the developing world." Hired by Habitat for Humanity International for a three-year period, he was assigned to establish a new Habitat program in Bangladesh where he built the program from scratch that has now constructed over 2000 houses in partnership with the working poor of that country. Arthur also served as legal counsel throughout the Asia/Pacific region, traveling to numerous countries and negotiating with government officials, aid organizations and local citizens to further advance Habitat programs across Southeast Asia.
After serving beyond his initial term with Habitat, he returned to Decatur where he joined Cook's Pest Control, Inc. and now serves as Executive Vice President over finance and accounting, human resources, fleet and property management, legal, technology, and training. "Working with a company operating 40 offices in 7 states with almost 2000 employees has provided me the opportunity to be more involved in the ongoing growth and management of a business — which I enjoy." Since his return in 2001, Arthur also started several businesses, primarily involved in real estate. He has also re-engaged as an active community leader and served as president or chairman of numerous community organizations. He helped start the Community Free Clinic and serves on many other local and state non-profit boards including chairing the Athens State University Board of Trustees. He served as President of the National Alumni Association for Wake Forest University and served on its Board of Visitors.   
Since his election in 2006, Arthur has sponsored, and seen his colleagues pass, numerous bills to make government more transparent and efficient, thereby saving the taxpayers money, along with tightening campaign finance laws.  He was instrumental in the creation and location of the Robotics Technology Park in Limestone County, the Alabama School of Cyber Technology and Engineering in Madison County and the Alabama Center for the Arts in Morgan County.  Arthur has also been a part of business recruitment teams that led to billions in economic investment and thousands of jobs over the three counties he represents.  He now chairs the $17 billion Senate Budget Committee for Education and several other legislative committees. He served as Chairman of the Alabama Bicentennial Commission created to celebrate the State's 200th Anniversary. For his efforts both in and out of the legislature, Arthur has been named to every Yellowhammer News "Power and Influence" list since its inception as one of the State's most impactful leaders.  He has also received many national, regional, state and local awards from education, business, agriculture, government and volunteer entities.  He enjoys reading, jogging and travel – having visited or lived in over 70 countries. 
Arthur and his wife of over twenty years, the former Amy Bethshares of Decatur, have one son named Jack and a daughter, Anna.  He and his family are members of Redeemer Presbyterian Church where he serves as an Elder and adult Sunday school class teacher.
Comittees
Finance and Taxation Education (Chairperson)

Finance and Taxation General Fund

Rules

Judiciary

Governmental Affairs

Fiscal Responsibility and Economic Development

Madison County Legislation 
GET E-MAIL UPDATES FROM SENATOR ORR
Complete the form below to subscribe to our e-mail newsletter.